BILL CHANGER - REAR LOAD / SINGLE HOPPER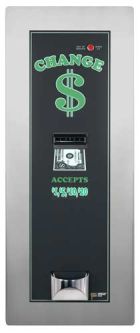 Item Number AC1005
For AMERICAN CHANGER
Price $3,055.00
AC1005 Bill Changer - Rear Load / Single Hopper
This rear load model is recommended for Car Wash and Laundry applications. It uses our signature hopper that holds 2,300 Quarters or Tokens. It is offered with your choice of a "Change" or "Tokens" front on a heavy duty, Stainless Steel Face Plate that is designed to be a pull-away, minimizing repair costs if vandalized. An Industry First! This model allows the use of a wide range of Industry-Standard Bill Acceptors. It is equipped with a Pyramid validator that accepts $1, $5, $10 and $20 Bills and has a 500-note stacker.
Product Features:
Pyramid validator accepts: $1, $2, $5, $10, $20
Stacker capacity: 500 bills
Can dispense one of the following: quarters, tokens or $1 coins
Hopper capacity:
2,300 quarters/tokens
2,000 $1 coins
Token range:
Diameter: 3/4" to 1 1/8"
Thickness: .049" to .098"
Options:
Custom cut face plate
Audit printer
$1 coin/quarter acceptor
2,000 board
(quarter acceptance, token value over $1 and/or bonus payout)
IDX electronic coin acceptor
IDX tokens (500 ct.)
IDX custom logo dye
CoinCo 650 bill stacker
Heater
MARS validator ($1, $5, $10, $20) 500 bill stacker
MARS 700 note stacker
MARS 1,000 note stacker
CoinCo Vantage validator($1, $5, $10, $20) 500 note stacker
Token front
T-Handle medeco
Lock & Key medeco
Warranty:
1 year on parts
2 years on validator
Dimensions:
8 1/2" W
26" H
13" D
Weight: 50 lbs.
Requires rough-in opening of 1/2" all around
Stainless Steel Face Plate:
12 1/2" W x 30" H

Weight: 12 lbs.
Buy commercial and domestic replacement laundry parts, and washer/dryer original OEM parts, here at Summit Parts. We carry the largest selection and lowest priced laundry parts for all major brands including: Alliance laundry parts, ADC parts, Huebsch, Dexter, Maytag, Speed Queen parts, Wascomat, and Whirlpool laundry parts. Our popular products include; Belts, Drain Valves, Hoses, Ignitor Boxes, Laundry Carts, Lint Screens, Rollers, and Water Valves. Learn more about our Free Shipping, and when you join Summit Bucks earn 3% back on every purchase.

Shop and save on all Laundry Parts Specials now.