THE LAUNDROCART® LAUNDRY CART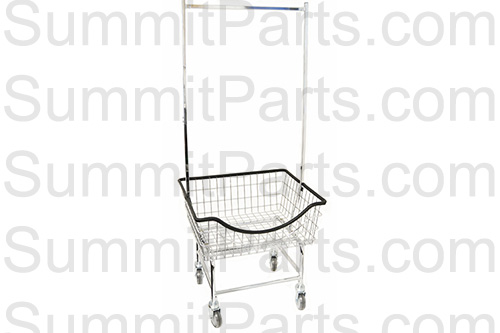 Item Number CART
For CARTS
Price $132.59
THE NEW AND IMPROVED LAUNDROCART&reg LAUNDRY CART
COMMERCIAL LAUNDRY CART FOR A LAUNDRY ROOM OR LAUNDROMAT.
ASSEMBLES IN 10 MINUTES OR LESS. NO EXTRA TOOLS REQUIRED
CONVENIENT 'SCOOP IN' FRONT
CHROME BASKET & BASE
LARGE 4" CASTERS
2 CARTS & POLES SHIP IN 1 BOX. TREMENDOUS FREIGHT SAVINGS!
COLLAPSABLE POLES, EASY TO ASSEMBLE
DURABLE, NON-MARKING CUSHION BUMPBER ATTACHED TO BASKET
PRESSURE SNAPPED BUMPER ON ALL 4 SIDES PROVIDES COMPLETE PROTECTION WITHOUT MESSY ADHESIVE
NEW WELDED BASE FOR EXTRA STRENGTH
CARTS SOLD IN PAIRS ONLY.
DIMENSIONS: 24 1/2" L x 22" W x 11" D x 64 1/2" H
CLICK HERE FOR MORE DETAILS
Buy commercial and domestic replacement laundry parts, and washer/dryer original OEM parts, here at Summit Parts. We carry the largest selection and lowest priced laundry parts for all major brands including: Alliance laundry parts, ADC parts, Huebsch, Dexter, Maytag, Speed Queen parts, Wascomat, and Whirlpool laundry parts. Our popular products include; Belts, Drain Valves, Hoses, Ignitor Boxes, Laundry Carts, Lint Screens, Rollers, and Water Valves. Learn more about our Free Shipping, and when you join Summit Bucks earn 3% back on every purchase.

Shop and save on all Laundry Parts Specials now.